Travel Professional and Flyte Systems VP Scott Triphahn Offers Winter Travel Tips for Pros on the Go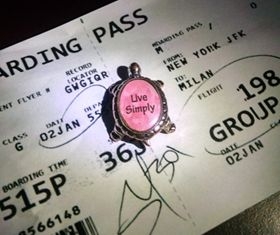 February 11, 2016 –
I am in the travel business, but regardless of how often I fly I still feel anxious 24 hours prior to my departure. I usually cannot relax until I am on the plane. Add winter weather like we have had this year and anxiety is doubled. With experience I have learned that if I do a few simple things, my "mental travel tool kit" is ready for almost anything.
1. Prepare… then relax
Not all trips to the airport are a nightmare. If you plan your trip expecting trouble, your sensitivity to any minor problem can become a soap opera. Begin each trip knowing you have done everything possible for a smooth flight. Then relax and let go of the outcome. Remember the old song "Whatever will be will be?"
2. Check the Weather Along Your Route
Your airline is committed to your safety. Weather disruptions along your route cause crowded skies that can result in necessary delays. If you have access to a FlyteBoard or other real-time airport travel information, use it to stay alert of travel conditions so you are better prepared. Stay healthy and calm. Focus on the sun but keep the gray in your periphery.
3. Hydrate
Dehydration can cause fatigue that may make you sluggish, especially on dry wintery days and long flights. Do yourself a favor, drink water. If you do not like paying $5 for a bottle of water inside the TSA barrier, bring your own empty bottle. Many airports have water fountains with a bottle filler. I find them to be valuable and cost effective.
4. For Hassle-Free Security – Be Prepared
I could put this under "Prepare" but felt it could stand on its own. To minimize 'security line tension' remind yourself you cannot change the people in front of you. To make it through TSA more quickly I always have one pocket in my backpack that I keep empty for EVERYTHING in my pockets, metal or not. This includes my watch, belt, and my lucky turtle.
5. Cancelled Flights Mean Long Lines, But Maybe Not For You
I was sitting in the boarding area recently when "the announcement" came. I called my airline's reservations agent as I stood in the long rebooking line and was able to get a flight before I reached the desk. If you've got checked bags, this one might not work for you. Calling your airline's loyalty rewards hot line may also help you reschedule faster. If you are on a major carrier, find a Customer Service Desk further down the concourse where the lines may be shorter.
6. Fall in Love With a Portable Cell Charger
Low Battery? Some airlines have USB ports on the chairs in the boarding area, but often these do not work. When you need a charge, it seems like the seats by wall outlets are all in use. During delays (and even when I just want to sit where I want to sit) I have come to love my portable USB charger. For $25 you can buy a small USB battery device that will give your phone one or two full charges. The pressure is off with one of these in your carry-on.
7. Most Important – Be Kind
When your flight is delayed, make a decision to ignore the first human impulse to worry. Anxiety is natural if you are on a tight deadline. But remember the agent in front of you is doing their best to help. It is a tough job and a kind word or gesture could make their day. It will also remove your own frustration and give you a burst of endorphins.