Live Flights Anywhere, Easily, Now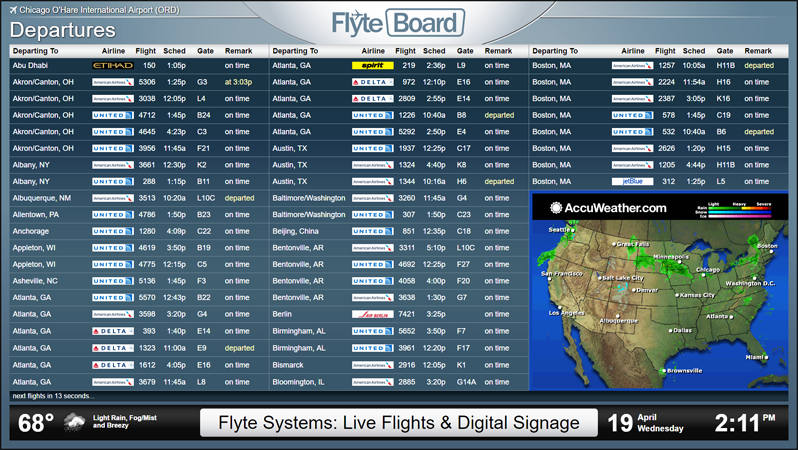 Displayed like familiar airport screens, FlyteBoard allows guests to quickly confirm the status of their flights. Our flight information comes directly from the airlines and airports, so your travelers receive the most accurate updates, 100% of the time.
FlyteSystems works alongside your team to get FlyteBoard working quickly & smoothly – it's as simple as "plug & play." Additionally, FlyteBoard's performance is monitored 24 hours a day, 7 days a week, ensuring your traveling guests are consistently informed.
Comprehensive Flight Information:
Arrivals & Departures
Display the information your travelers need: arrivals, departures, or both.

Concise Destinations
For clarity, full city names are included – no confusing abbreviations here.

Airline Logos
Pixel-perfect & updated regularly, our robust library of airline logos is unrivaled.

Flight Numbers
Flight numbers are paired with airline logos, creating an intuitive interface.

Scheduled Times
The official posted flight schedules – direct from the airlines and airports.

Airport Gates
Before leaving your property, viewers know which part of the airport to head towards.

Status Updates
Provides immediate notification of flight status changes in real-time.

Multiple Airports
For cities served by more than one, multiple airports are displayed together.
Additional Features:
Custom Branding
Featuring your logo & company message, FlyteBoard blends seamlessly into your brand.

Local Weather
Colorful, location-based weather updates provide even greater value to your travelers.

Date & Time
Date & time are displayed prominently so viewers can confirm travel plans with ease.

24/7 Support
Performance is monitored 24/7, ensuring your traveling guests are consistently informed.
Popular Add-ons:
| | | | | | |
| --- | --- | --- | --- | --- | --- |
| Advertising | Daily Events | Doppler Radar | Local Traffic | News Feed | Twitter |
We are proud to be the trusted provider of flight information for hotels, convention centers, corporate headquarters, training centers, parking facilities, passenger terminals, and numerous other businesses catering to air travelers. Contact us today to learn more about how FlyteBoard can boost customer satisfaction, improve productivity, and generate revenue at your location.