Guests Confirm Travel Plans at Busy Airport Hotel with Latest Amenity to Make Travel Easier; FlyteBoard Provides Airline, Gate and Departure Information with Live Doppler Radar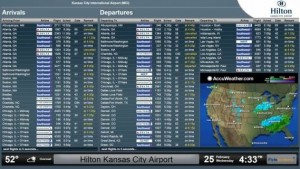 February 26, 2015 –
The newly renovated Hilton Kansas City Airport hotel included the latest in travel amenities from Flyte Systems in its recent $12M renovation. The busy business hotel will install a FlyteBoard real-time airline information display in its lobby to help guests plan their travel more confidently. Flyte Systems is the leading provider of cost effective airport travel information displays and digital signage content for the hospitality, digital signage, and convention center industries and related businesses. Click here to request information on Flyte Systems' airport travel and guest information services.
"An essential goal of our new $12M renovation is to make travel as pleasurable as possible for our guests," said Hilton Kansas City Airport General Manager Mark Krtek. "More than 70 percent of our guests are business travelers who come through Kansas City International Airport. Our new FlyteBoard airline information display will enable them to verify their airline departure time, gate information, and flight status in real time. The display will also show live Doppler radar so guests can check weather across the country to plan their travel day appropriately."
The 347-room Hilton Kansas City Airport offers around the clock airport shuttle service as well as Hilton's connectivity center. Amenities include an indoor/outdoor pool and Hilton by Precor fitness center. The property also provides 21,000 square feet of banquet space for conferences, business meetings and social events. Its recent renovation included new lobby, public spaces, new restaurant – Asado Urban Grill and guest rooms which offer custom upholstered headboards complete with all new bedding, down comforters, and refrigerators.
"FlyteBoard is a must-have guest service amenity for any busy hotel," said Scott Triphahn, Flyte Systems vice president. "Many of Hilton Kansas City Airport's guests connect through Dallas, Denver and Atlanta hubs. In winter months, these airports are subject to frequent weather-related flight delays that affect travel plans. If guests learn their flight is cancelled while they are still at their hotel, they can extend their stay or wait out the delay in comfort. The bottom line is that it makes a guest's travel day easier when they have confidence in their departure time and flight status."
Hilton Kansas City Airport selected FlyteBoard based on its success at a sister property. "We operate another Hilton near San Antonio International," said Krtek. "When the GM showed me their FlyteBoard I thought it would be valuable to complement our renovation and a perfect addition to our guest amenity offering."