Nexgen Holiday Inns at Cleveland and Chicago Airports Upgrade Guest Travel Services; Helps Guests Arrive On Time with FlyteBoard Flight Information Displays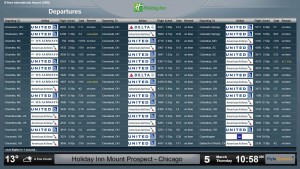 March 12, 2015 –
More guests are traveling by air than ever before and Nexgen Hotels brings the airport to its properties to make travel easier. Nexgen's Holiday Inn Cleveland Airport and Holiday Inn Mount Prospect at Chicago O'Hare International will provide guests with FlyteBoard real-time airline flight information displays from Flyte Systems. Flyte Systems is the leading provider of cost effective airport travel information displays and digital signage content for the hospitality, corporate training centers, digital signage, and convention center industries and related businesses. Click here to request information on Flyte Systems' airport travel and guest information services.
FlyteBoard is easier to use and more accurate than a mobile app
"Guests value accurate flight information, and the FlyteBoard display is real-time," said Nexgen Hotels Principal Chris Patel. "Plus, it is very convenient. Guests don't have to use their handheld to open an app, find the right airport, and hunt long lists for their flight number; it is 'glance and go." Patel tours properties near Nexgen's hotels. "I saw FlyteBoard at another property. I liked the way it looked in the lobby and saw that guests valued the airline flight information."
Patel said, "FlyteBoard will help guests so they don't get stuck at the airport if flights are cancelled, and they can extend their stay if needed. It will also help our staff. We have crew room contracts and the FlyteBoard display will show us the right time to send our airport shuttle to meet crews when their planes actually land to save time. We will not have to wait for delayed arrivals." Nexgen Hotel's Holiday Inn properties near Cleveland International and Chicago O'Hare are focused on the needs of airport guests.  Both properties offer 24/7 airport shuttles and have full-service restaurants, bars, and fitness centers.
Scott Triphahn said, "Air travel should be an efficient process for everyone. Flyte Systems' solutions make it a more confident and effortless experience."  Flyte Systems has 55 years' experience providing airline information. The company supplies 24-hour system support from its Chicago offices. Properties that use Flyte Systems solutions report increased loyalty and repeat business based on a positive guest experience.