FlyteBoard with Doppler Radar Keeps Guests Informed on Flight Availability and Changing Weather Patterns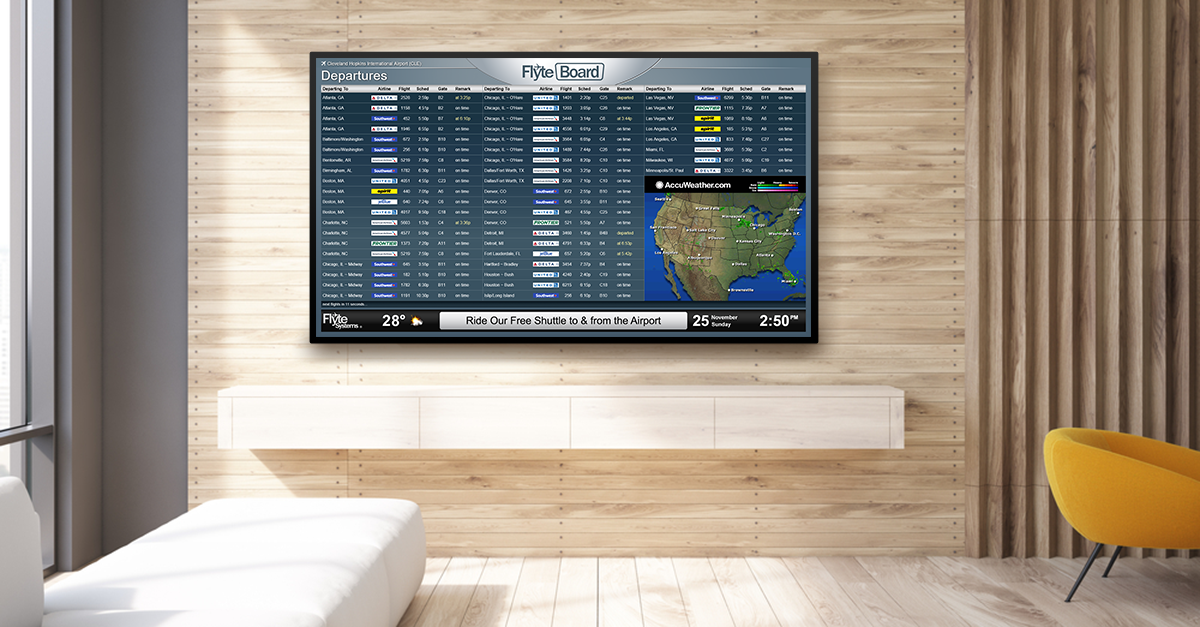 November 26, 2018 –
Thousands of flights were cancelled Sunday, with thousands more being delayed into Monday morning as Winter Storm Bruce blanketed the Midwest with snow and whiteout conditions. The AAA projected this past weekend would see the highest travel volume in over a decade as Thanksgiving travelers returned home.
When major cancellations like this occur, airport hotels become an indispensable resource for stranded passengers, offering convenience and comfort while flights are rebooked and itineraries are rescheduled. FlyteBoard with Doppler radar keeps travelers informed on flight availability and changing weather patterns.

"Air travel in winter months adds a dimension of stress for anyone, seasoned or not," said Scott Triphahn, vice president of Flyte Systems. "Having a real-time glimpse of your flight's status removes some of that anxiety and gives you a heads up if flights are delayed," he said.
For hotels equipped to handle an unexpected flood of incoming guests, weather events can directly translate into increased bookings.
FlyteBoard aids in your hotel staffing decisions, providing advanced notice of mass flight delays & cancellations and preparing employees for incoming crowds of stranded travelers. Additionally, guests and staff can track where storms are heading in real time with Doppler radar.
Interested in a FlyteBoard for your hotel? Let us know here!
We are proud to be the trusted provider of flight information for hotels as well as convention centers, corporate headquarters, training centers, parking facilities, passenger terminals, and numerous other businesses catering to air travelers. Contact us today to learn more about how FlyteBoard can boost customer satisfaction, improve productivity, and generate revenue at your location.