The Recognized Leader in Live Airport Flight Screens
The Flyte Systems Unique Advantage
Our technology has been developed in partnership with the airlines, beginning in 1960, to provide flight information identical to that showing on the monitors at the airports.
Today, our unique Cloud technology delivers current information LIVE from the airport, showing airlines, arrivals, departures, flight number, flight status, flight time, and the gate. No waiting!
Flyte Systems has products and solutions to suit a variety of needs.  Learn more about our products here.
Receive company news and information on how Flyte Systems can help boost your revenue and profit.
"Providing guests with the ability to easily check their flight status offers them the convenience of a seamless travel experience."
"Flyte's airline information is a profit center for our hotels."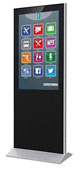 Help boost ROI with Flyte Systems' host of flight products. Whether it brings them back or keeps them there, our solutions can get you wallet share while providing a clean comfortable oasis for your weary traveler.
Home